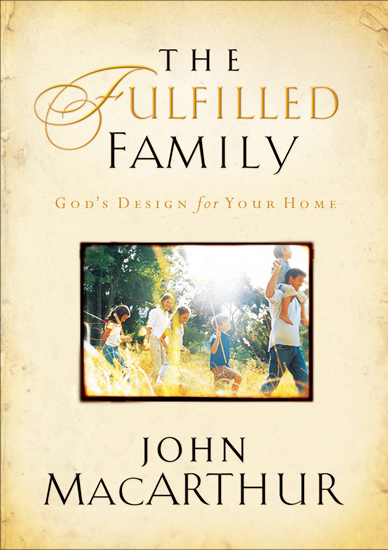 I've done it! I have actually completed a book and am almost done with a second. This is something for me to rejoice about, because frankly, that just doesn't happen very often. What a great book to read through as well. I have had the great opportunity to read through John MacArthur's
The Fulfilled Family
. This book has been a huge blessing to me and I have taken much from it. I very much suggest it to any one and every one who is thinking about having kids, already has kids, or even Grandparents.
Ilijah and I actually watched a sweet movie yesterday by Featured Films for Families called
The Velveteen Rabbit
. This is one of Ilijah's favorite books, so it was awesome when we found a movie based on the book. One of the main morals of the story is that it is never too late to be a good parent. Who would've thought I, a parent, would get something out of a children's movie?
Sometimes in life, things can get away from us. Life passes us by so quickly that we are left caught off guard and unaware that time has passed us by. Many times, parenting becomes something you simply do on the fly. Discipline is just something that happens as we go, and then inconsistency creeps in. Even though we are still a "young" family, Jacob and I have already experienced this laps in time. We know what we want as parents, but often times we fail to think through our choices, and we allow our selves to get caught up in the moment.
The Fulfilled Family
has really inspired me to think through each moment with my children and reflect those moments on the Lord and what He would have me do and teach. By taking time to think upon what the Bible teaches me as a parent to do, I pray that my actions become less reactive and more proactive.
The following are some excerpts from the book which have seriously focused my philosophy of parenting. Hope you enjoy!
"If the family crumbles as an institution, all of civilization
will
ultimately crumble along with it."
"It may well be that the example we set before the world through strong homes and healthy families will in the long run be one of the most powerful, attractive, and living proofs that when the Bible speaks, it speaks with the authority of the God who created us - and whose design for the family is perfect."
"It is folly to imagine that our families can be what He intended if we refuse to set Him first in the family."
"Christ must be first in our hearts and in our families."
"It's only when we love Him more than the family that we can really love our families in the highest, purest sense."
"
submission
is the single principle that sums up the character of a truly Spirit-filled person."
"a married woman's first duty is to her own family, in her own household. Managing her own home should be her primary employment, her first task, her most important job, and her true career."
"We have a serious problem in contemporary society: no one is home."
"millions of preschool-age children are growing up in day-care centers rather than in the home."
"The exodus of mothers from the home has surely contributed to the rising tide of juvenile delinquency, the dramatic increase in adultery and in the divorce rate, and a host of other problems related to the disintegration of the family."
"authentic love involves a deliberate, voluntary commitment to sacrifice whatever we can for the good of the person we love."
"love involves a deliberate act of the will."
"biblical love is a willful commitment to self-sacrifice, and it is not at all based on how we might 'feel' at any point about the object of our love."
"obedience comes naturally to no one."
"parents cannot afford to be fainthearted or passive."
"when children rightly obey, they do it as unto the Lord."
"We ought to obey God rather than men" (Acts 5:29).
"They have turned their children over to artificial, surrogate parents. Day-care centers, relatives, the television set, and the child's own peers often have far more influence on the moral and social development of today's children than parents do."
"The Lord Himself gave parents - not schools, youth leaders, Sunday school teachers, or anyone else - the primary responsibility for the nurture and admonition of children. And He meant for parenting to be a full-time job, with no time off."
"set a good example, be dilligent teachers, give regular correction, and provide consistent discipline - all without frustrating [your] kids in the process."
"Remember, parents, like children, are fallen and sinful."
"parents are not always right."
"the principle of mutual submission covers the parents' role too. There's a true sense in which parents must submit to their children, and Paul defined how that works in Ephesians 6:4: 'You, [parents,] do not provoke your children to wrath, but bring them up in the training and admonition of the Lord."
"show your submission to them by treating them with gentleness, kindness, consideration, and respect. After all, that's an essential part of being a good example to them."
"No parent should ever be eager to punish."
"Parents should always administer discipline with the good of the child in mind, always with love."
"parents provoke their children by
inconsistent discipline
. If you overlook an infraction three times and punish the child severely the fourth time, you will confuse and exasperate your child. Parental discipline must be consistent."
"parents, you cannot raise your children to be what they ought to be unless you help them realize that their most fundamental needs are spiritual"
"It's not ultimately about behavior; it's about the child's heart."
"Chastisement is not for the benefit of frustrated parents. It's supposed to be for the benefit of the child."
"the real problem is their sin - sin that offends
God
."
"
discipline should be consistent
."
"If a parent tells a child not to do something and the child does it anyway, the parent
must
correct the child. To ignore the offense is to sanction the disobedience and encourage more rebellion."
"don't be severe sometimes and lenient other times. Discipline should always be firm (not necessarily harsh) but always loving and always consistent. Be equally firm with all your children. And keep your word when you make promises."